Babies Go to Congress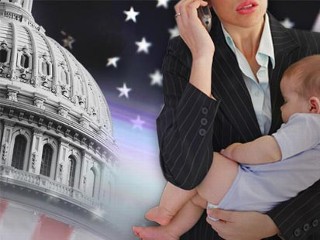 Heartbeat International, an association of more than 1100 pregnancy help centers, is providing an opportunity for women served by these centers to bring their babies to Capitol Hill. These moms, accompanied by their babies, will meet with Members of Congress on January 21, 2010 to express their gratitude for the life-saving work of pregnancy help centers.

Our elected representatives need to know that pregnancy resource centers exist in most of their districts. These help centers are serving communities by uniting thousands of compassionate individuals with a passion for life, who also fund the community-based centers and serve as volunteers, to provide the emotional and practical help women facing unexpected pregnancies need. This network, including doctors, lawyers, nurses, social workers, educators and other professionals, provides the vital information women need to make an informed decision, the facts that abortion providers often leave out. As Peggy Hartshorn, President of Heartbeat International, stated, "Alternatives to abortion must be available so no woman ever feels forced to abort her baby."

Moms and babies saved by pregnancy help centers want to send the clear message that pregnancy resource centers (PRC) are good for America. You can find out more about the untold story and impact of the PRC movement, and the tremendous good being done in our midst, at www.apassiontoserve.org. A combined services report, A Passion to Serve, A Vision for Life, records the development and vital work of the three major pregnancy resource network groups—Heartbeat, CareNet and the National Institute of Family and Life Advocates (NIFLA). If you are interested in locating a pregnancy resource center, you can access http://www.optionline.org.

Contact: Sherry Crater
Source: FRCBlog
Publish Date: January 20, 2010
Link to this article.
Send this article to a friend.


The
IFRL
is the largest grassroots pro-life organization in Illinois. A non-profit organization, that serves as the state coordinating body for local pro-life chapters representing thousands of Illinois citizens working to restore respect for all human life in our society. The IFRL is composed of people of different political persuasions, various faiths and diverse economic, social and ethnic backgrounds. Since 1973 the Illinois Federation for Right to Life has been working to end
abortion
and restore legal protection to those members of the human family who are threatened by
abortion
,
infanticide
and
euthanasia
. Diverse though we are, we hold one common belief - that every human being has an inalienable
right to life
that is precious and must be protected. IFRL is dedicated to restoring the right to life to the unborn, and protection for the disabled and the elderly.
Click here
to learn more about the IFRL
.